USAF Museum, Dayton, OH - WWII - British Aircraft / 01 Supermarine Spitfire PR.XI
Bill Maloney
10/21/2006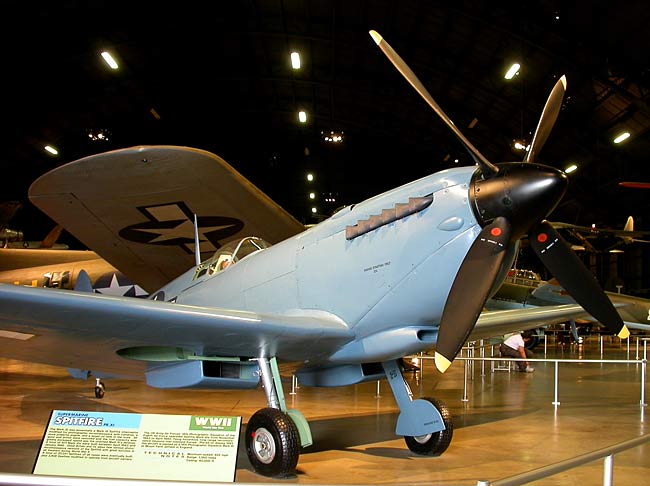 01 Supermarine Spitfire PR.XI
Supermarine Spitfire PR.XI Specifications:
WWII Supermarine Spitfire Fighters at other Aviation Museums in the Northeast

Another Supermarine Spitfire Mk XVI at the Vintage Wings of Canada Museum in Gatineau, Ontario
A Supermarine Spitfire Mk IX at the Canadian Warplane Heritage Museum in Mount Hope, Ontario, Canada
Another Supermarine Spitfire MK VC at the US Air Force Museum in Dayton, OH
A Spitfire Mk XI L. F. at the Canada Aviation Museum
Spitfire Mk IX at the Royal Canadian Air Force Museum in Trenton, Ontario, Canada
A Spitfire Mk XVI at the Canadian Warplane Heritage Museum
Length: 30 feet, 0 inches
Wingspan: 36 feet 10 inches
Height: 11 feet, 5 inches
Crew: 1
Weight: Empty 5,050lbs Max Takeoff - 6,700lbs
Max Speed: 422mph at 13,000 feet
Cruise Speed: 322mph at 20,000 feet
Range: 1,360 miles
Service Ceiling: 40,000 feet
Fuel Capacity: 101 gallons internally 108 gallons in an external drop tank
Powerplant: Rolls Royce Merlin 45 with 1,470hp
Armament:
None. This is a US photo reconnaissance version of the Spitfire
Cost: $60,000
Here is a link to a Youtube Video about a US Air Force photocreconnesance pilot who flew the photorecon version of the Spitfire. By deleting the guns and adding fuel tanks in the leading edge of the Spitfire's wing the plane was able to fly to Berlin and back from England.