11/28/2009 - I received an email today saying that the Elvis House won't be lit again. I'll take a swing up there when I get a chance and update this in case it looks like the lights are in place. Last Christmas the homeowner took the year off for doing up the Christmas lights. It was due partly to the economy and partly wanting to take a break from it. On a side note, The Learning Channel was asking this past summer how to contact the homeowner as they were filming a segment about home owners who went above and beyond in decorating and lighting their homes and yards for Christmas.

In the meantime on a bit lesser of a scale is the Packanack Yule Shack. OK, it isn't exactly a shack (It's a very cute house) and it isn't up to Elvis House in Mahwah standards, but it is pretty "Oh My Frigging God!!!"esque.

The photos do not do it justice. These photos were taken in 2008 and I rode past on 12/7/09 and there must be 50% or more lights and decorations. You can easily see it from the far side of the lake. Make your way to Packanack Lake in Wayne, NJ and drive COUNTER CLOCKWISE around the lake (you'll understand why when you get there). It is WAY better this year than last. It may not cover as much acreage as the Elvis House, but but it does exceed the Mahwah Christmas lights in density per square foot.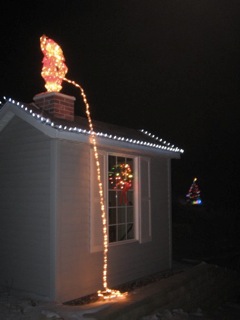 My good friend Ben Smith sent me a photo of some Christmas Lights that really pissed off his homeowner's association. I'll bet Elvis would be pissed off too!