PT Boat PT-557 with Milt Donadt manning the bow 37mm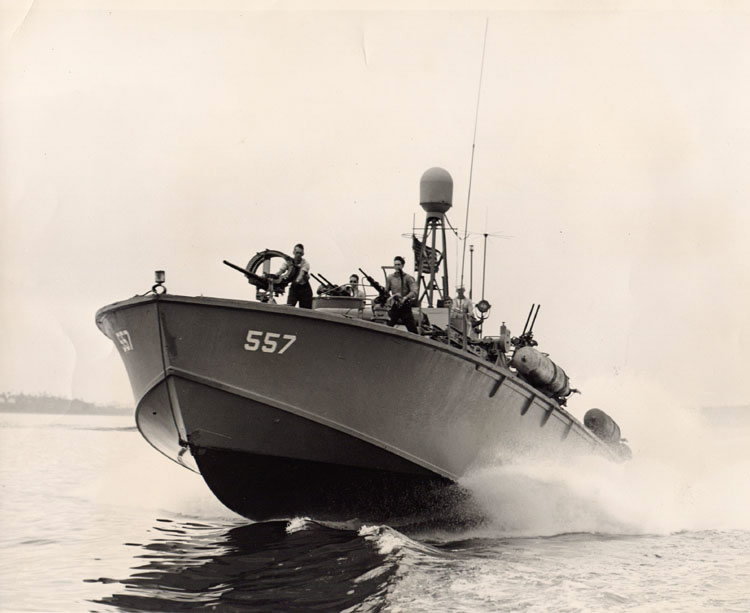 Milt Donadt liked manning the bow 37mm canon of the PT-Boats because he felt that if the boat was blown up he would get blown off and survive.
July 23, 2010- Milt Donadt passed away unexpectedly due to complications following hip replacement surgery. He was 91 years old. Milt was a good friend. I always enjoyed talking with him about his time serving in WWII in the Pacific, more of which I've written below. After the war Milt worked for many years in a machine shop in Teterboro, NJ and worked his way up to foreman. He tried to retire early, but his employer valued him so much Milt was made an offer he couldn't refuse and he stayed on longer. Eventually he did retire, but Milt missed having all the machine tools handy that would have helped him make home improvement and maintenance projects easier. He helped me a number of times drilling and removing broken bolts and studs from various automotive parts over the years. Milt also gave a lot to our lake community, teaching the kids how to sail, maintaining and repairing the sailboats at the end of the season, pitching in to help at barbecues and pancake breakfasts, and a variety of other projects over the years. We've missed him coming down to the docks to watch the sunsets in the evening, and sailing races during the Sundays in the summer after he gave up racing himself. Milt was also an avid skier and continued gliding down the slopes until he was 88. He also was very active in his local bowling league, and continued bowling into his 90th year. He was a very physically active guy, and walked daily up until the last few months. He never complained, unless he was in extreme pain which he was in the last few months due to his hip. He had an easy smile and a very positive attitude and was well liked and respected in the neighborhood. We all will miss Milt very much.
This photo of PT-557 was taken on the Hudson River heading up to Detroit after the war had ended. While Milt was stationed near Boston there was a call volunteers to ferry boats to Detroit for public display. Milt felt it was better than hanging around the base so volunteered. They took the PT-Boats to Detroit for display for 2 weeks, then they were brought back through the locks and ended up at the Brooklyn Navy yard. On the way back they were admonished to go slower as when they went up the Hudson at speed their wakes swamped and damaged several docks along the shore. I suppose 7 PT Boats doing 40 knots could do that.
The interesting thing about Milt's photos is that a lot of them were taken by Milt with his own brownie box camera and are not copies distributed by the navy.
PT Boat Photos from WWII in the Solomon Islands

Milt Donadt
Treasury Island On The PT-Boats
Woendi Island, 1944 Various PT-Boat Crew Photos
Various Photos of the PT Boats Taken On Station
War's End, Somar PT Base 17 October 1945, Burning the PT Boats
Postwar - Ferrying PT Boats from Rhode Island to Detroit
PT Boats Leaving Rhode Island for Detroit MI
PT Boats Navigating The Locks, Gallery 1
PT Boats Navigating The Locks, Gallery 2
PT Boats Navigating The Locks, Gallery 3 - A public display of PT Boats and other naval vessels for the general public in Detroit, MI October, 1945
Albany, NY 1945 - Various Photos
The Crew of PT-235 just before Milt arrived
After putting up the page I was able to contact Albert Fleischer who was the skipper of PT-235 during 1945. Al was kind enough to fill in some details:
PT-235 was placed in service on 4/22/43 with Squadron 19 and saw action around Vella Lavella, Treasury Island and Green Island. The PT Boat was then transferred to Ron 20 on 4/19/44 and saw action around Treasury Island and Bougainville. Ron 19 was decommissioned and their PT Boats were distributed to other squadrons. On 2/10/45, PT 235 was transferred to Ron 16 which was at Mindoro, P.I. It saw limited action there and later at Borneo.
You have a photo of Milt on the bow of the PT 557 at the 37 mm. This PT was placed in service on 10/30/43 in Ron 29 and saw action off the N.W. coast of Italy and S.E.Coast of France. On 11/23/44 it was transferred to Ron 4 which was the training squadron at Melville R.I.. For Milt to be on that boat, he must have been rotated out of the Pacific and reassigned to Melville.
PT Boat PT-235 Photos from Al Fleisher

An article by PT-235 crewmember Charles Nelson
Elco PT 617 A restored Elco Patrol Torpedo at the Battleship Cove Naval Museum in Fall River, MA. If you want to see a well restored example of one of these boats, this is the place to go.
Higgins PT 796 The Higgins at Battleship Cove
Pistol Packin Mama - An excellent site by the grandson of Higgins PT 209 veteran James Stanton. He has a number of interesting period photos both in the Mediterranean and Pacific Theaters. The accounts of night actions against German surface craft off the coast of Italy are really quite exciting. If you go to the After PT Boats page and scroll to the bottom there is a photo of my other PT Boat friend, Jack Madden, who served on Higgins boats in the Mediterranean off the coast of Italy in WWII.
Elco PT Boat Specifications:
Length: 77 feet
Beam: 19 feet 11inches
Draught: 4 feet
Crew: 2 officers and 9 crewmen
Displacement: 51 tons fully loaded
Max Speed: 41kts (46mph)
Fuel Capacity: 3,000 100 octane avgas
Range: 358 miles at 35kts, 1050 miles on one engine, 11 knots
Oil Capacity: 30 gallons
Armament:
4 21" Torpedoes
Up to 8 Mark 6 300 pound Depth Charges
1 37mm Deck Gun
1 40mm Bofors AA mount aft
4 50 cal Browning Machine Guns
Hull Construction: Double planked Mahogany (NOT plywood)
Power Plant: 3 1,200 hp Packard Marine V-12 engines driving 3 props and 3 rudders

WWII Main Page