Wings of Eagles Museum - Aircraft Engines / 08JunkersJumo004BTurbojetEngine
Bill Maloney
11/10/2010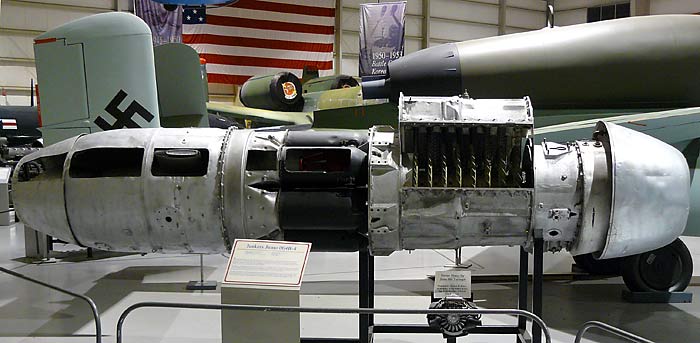 08 Junkers Jumo 004B Turbojet Engine
Junkers Jumo 004B Orkan Turbojet Engine Specifications:
Three other Junkers Jumo 004B Turbojets and two WWII Messerschmitt Me-262 German Jets at other Aviation Museums in the Northeast

Junkers Jumo 004B cutaway at the New England Air Museum in Hartford, CT
Junkers Jumo 004B with exposed Reidel 2 cycle starter motor at the Air Victory Museum in Lumberton, NJ
Messerschmitt Me-262 Swallow at the US Air Force Museum in Dayton, OH
German WWII Messerschmitt Me-262 figther jet at the Delaware Valley Historical Aviation Association in Wilow Grove, PA
Weight: 1,640lbs
Length: 152 inches
Diameter: 30 inches
Output: 1,984lbs thrust
Turbine: 8 stage compressor, single stage exhaust turbine, adjustable exhaust cone
Starter Motor: Reidel 2 cycle 10hp @ 6,000rpm started electrically from cockpit or manually via pull ring cord in jet engine nose
Starting RPM: 800
Operating RPM: 8,700
Operating Temp: 1,427°F
TBO - Time Between Overhauls: 50hrs (rarely achieved)
Airframes used on: German WWII Messerschmitt Me 262 Swallow, Arado Ar 234 Blitz Jet Bomber. The HE-162 used the 003B which was very similar.
Built in: 1944
Cost: $
This Junkers Jumo 004B Turbojet exhibit is only the second example I've seen with the Reidel 2 cycle starter motor visible. The Reidel starter motor is a two stroke 10hp small engine was started either electrically from the cockpit or by manually using a lawn mower type pull cord with a ring that protrudes from the jet engine nose cone. The Reidel starter motor was fueled by A3 80 octane gasoline and 5% two stroke oil in a .8 gallon annular tank in the nose of the engine nacelle.
Once the Reidel starter motor has started the turbine is allowed to spin up to 800rpm. At this point the pilot presses 2 buttons, one to inject B4 (smelly synthetic brown coal fuel oil) and 3% oil into the combustion chambers and the other button to light up the spark plugs to ignite the fuel oil mixture. At 1,800rpm the starter button could be released shutting off the starter motor allowing the turbine to spool up on its own. At 3,000rpm the ignition button for the spark plugs could be released and fuel flow would be switched to straight B4 from the main fuel tanks. After this the throttles could be advanced gradually to full power.