West Point Military Museum - World War II / 24 Adolph Hitler's Lilliput Model 1 Pistol
Bill Maloney
3/13/2009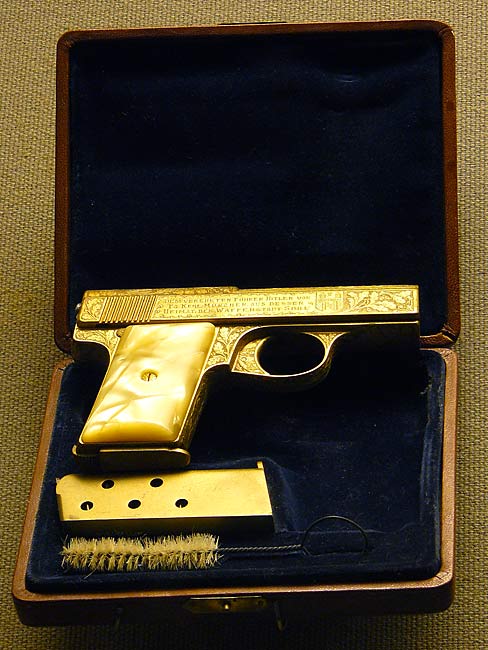 24 Adolph Hitler's Liliput Pistol
Adolph Hitler's Liliput Model I Pistol
Caliber: .32
Action: Recoil Semi Automatic
Muzzle Velocity: fps
Range: yards
Weight of Round:
Magazine Capacity: 6 rounds
Barrel Length 1.75 inches
Overall Length: 4.25 inches
Weight: 10 oz
Year Built: 1938
Cost: $
This Liliput Model I Pistol was given to Adolph Hitler by Nazi Party Member Max Kehl before the start of WWII. It was discovered during the occupation of Germany in 1945 in Munich in the Fueherbau, a government building used for storage by an American sergeant. The inscription on this side of the pistol reads "Presented to the revered Leader Adolph Hitler by the Party Comrade Kehl in the city of Munich from his home, the City of Weapons, Suhl." On the other side is inscribed "In defiance of the Red Front and the Reaction, for the protection of our leader." Here is a link to an interesting article on how Adolph Hitler's Liliput Pistol was found.

The inscription on this Lilliput pistol owned by Adolph Hitler reads:
"DEM VEREHRTEN FUHRER HITLER VON
PG KEHL, MUNCHEN, AUS DESSEN
HEIMAT DER WAFFENSTADT SUHL"
It is said Hitler kept this pistol in a specially sewn pocket in his pants.