West Point Military Museum - Artillery / 12 French WWI 75mm Field Gun
Bill Maloney
3/13/2009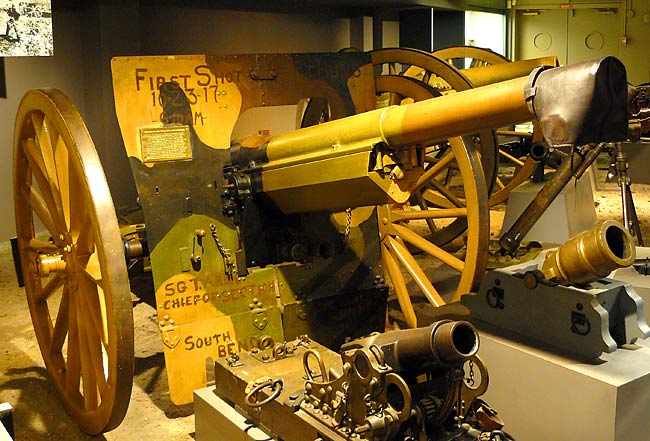 12 French WWI 75mm Field Gun
French WWI 75mm Field Gun
WWI era French 75mm Field Guns at other Military Museums

A WWI French 75mm Field Gun can be found at the Fort Dix Army Reserve Mobilization Museum in Fort Dix, NJ
Another WWI French 75mm Field Gun can be found at the US Army Ordnance Museum in Aberdeen, MD
Another WWI French 75mm Field Gun can be found at the Militia Museum of New Jersey in Sea Girt, NJ
Caliber: 75mm
Action: Breech Loader, hydro pneumatic recoil mechanism
Muzzle Velocity: 1,600fps
Range: 9,300 yards shell, 5,000 yards shrapnel
Weight of Round - 13lbs High Explosive, shrapnel, anti tank
Maximum Powder Charge:
Barrel Length: 106 inches
Weight Towed: 3,400lbs
Year Built: 1897
This particular 75mm Field Gun fired the first US shot against German Troops in WWI by Battery C Sixth Field Artillery. Their first shots were fired at 6:05am October 23, 1917. It fired over 10,000 rounds before being taken out of service and preserved.