New England Air Museum - Boeing B-29 Superfortress
Bill Maloney
1/20/2009

| | |
| --- | --- |
| page 1 of 4 | |
Boeing B-29 Superfortress Specifications: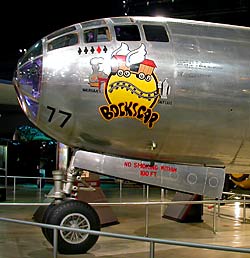 Another Boeing B-29 Superfortress, BOCKSCAR, can be found at the US Air Force Museum in Dayton, OH
Length: 99 feet
Wingspan: 141 feet 3 inches
Height: 29 feet 7 inches
Crew: 10
Weight: 70,140 empty, 124,000 maximum take off
Max Speed: 358 mph
Cruise Speed: 230 mph
Range: 3,200 miles
Service Ceiling: 31,850 feet
Fuel Capacity: 9,363 gallons of 130 octane avgas
Armament:
Ten 50 cal Browning M2 machine guns in 4 General Electric remotely controlled electrically powered turrets
Two 50 cal Browning M2 machine guns in the tail turret
20,000 pound bomb load
Power Plant: Four 2,200 horsepower Wright Cyclone R-3350 twin row radial engines driving 16.5 foot Hamilton Standard four bladed props
First Flight : September 21, 1942
Cost: $639,000
David Jackson forwarded me a link to a very interesting B-29 video showing a Superfortress's crew being recovered after bailing out. It includes a clip of the B-29 going down in the water.
David forwared anothe link to a B-29 Superfortress Fifi Youtube video showing the engines being run up and the big Boeing bomber doing flybys.
Here is a link to the B-29 video "The Last Bomb" . It has great WWII period footage of a B-29 raid over the Pacific to Japan.

New England Air Museum Main Page