Empire State Aerosciences Museum - Lockheed 10-E Electra
Bill Maloney
12/2/2008

Lockheed 10-E Electra Specifications: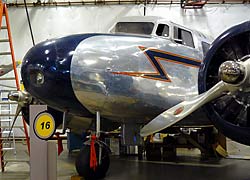 Another Lockheed Electra can be found at the New England Air Museum near Hartford, CT
Length: 38 feet 7 inches
Wingspan: 55 feet, 0 inches
Height: 10 feet, 0 inches
Crew: 2 +4
Weight: Empty 7,000lbs Loaded - 10,400 lbs
Max Speed: 200 mph
Cruise Speed: 194 mph
Range: 875 miles
Service Ceiling: 24,000 feet
Fuel Capacity: 260 Gallons
Powerplant: Two Pratt & Whitney R-985-13 Wasp Junior Air Cooled Radial Gas Engines - 450hp each
First Flight : 1935
Cost: $
This particular Lockheed Electra fuselage was used for interior shots in the TV movie about Amelia Earhart's last flight "The Final Flight" with a cast including Diane Keaton, Rutger Hauer, and Bruce Dern. The interior was redone to resemble Amelia Earhart's Lockheed Model 10 Electra used in her last flight where she was lost over the Pacific Ocean. It looks like there are 4 or 5 additinal fuel tanks in the cabin. The tanks appear to make movement between the cockpit and rear cabin difficult and there is a toolbox on a clothesline pulley to to transport stuff beween both areas. It's not clear if this would be used for sandwiches or pee bottles.
Empire State Aerosciences Museum Page