Aberdeen US Army Ordinance Museum - American Tanks - M48 Patton Tank
Bill Maloney
7/11/2007


M48 Patton Medium Tank Specifications:
Length: 30 feet 6 inches
Width: 11 feet, 11 inches
Height: 10 feet, 1 inch
Crew: 4
Weight: 53 Tons
Max Speed: 30mph
Range: 310 miles
Armor: 4.7 inch frontal
Powerplant: One Continental 12cyl Air Cooled Gasoline Engine 810hp
Fuel Capacity: 200 gallons
Armament:
One 90 M41 Rifled Gun
One 7.62mm coax Machine Gun
One 50 cal Machine Gun
Entered Service: July 1952
Unit Cost: $309,000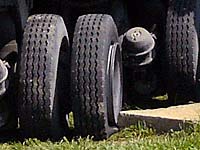 The day I visited the US Army Ordnance museum a crew with a tank transporter was moving/removing an M48 Patton tank. I happened to be there as they were trying to maneuver around the Lorraine Schlepper it caught the corner of its concrete pedestal. Each tire that met it bulged then made a loud bang and a whoosh!
I'm not certain, but I believe this Youtube video of M48 Patton tanks on the move is South Korean Army footage. Here's a nice clear segment of an M48 Patton doing a drive by at a military vehicle show, possibly in Russia.