Volvo Trailing Arm Bushing tool.
I put this page together to detail the steps required to replace the big trailing arm bushings on the Volvo 240. I made the tool up from plans posted online by Neil Wilcer (see link at bottom). I would have ground down the plug as recommended in the plans but a friend offered to turn one down on his lathe. For prep work I took a hand wire brush and brushed as much scale off the bushing shell as possible, then sprayed PB Blaster over everything on both bushings and let them sit overnight before beginning the work. I used two large hose clamps joined together to hold the spacer in place to keep the big eyelets from bending. As the bushing began to move I kept spraying WD-40 (because I had a plastic spray bottle of it and a gallon can) on the bushing to keep it moving. Once I had it off I used fine abrasive paper to get the rust off the inside of the eyelets that holds the bushing shell then cleaned them with brake parts cleaner and paper towels to get the grit off, then coated the surfaces with Lubriplate (grease would work too). The bushings used are polyeurathane from IPD Volvo Parts in Oregon. I lubricated the outer shell of the new bushings before pressing them in, the champhred side goes in first. If you decide to go this route the most time consuming part would be to turn/grind the plug down that would be used to press the bushing through. Everything else was pretty straight forward.
Below - the plug for pressing out the bushing was machined by Alan Richer for me. The new IPD poly bushing is at the top left.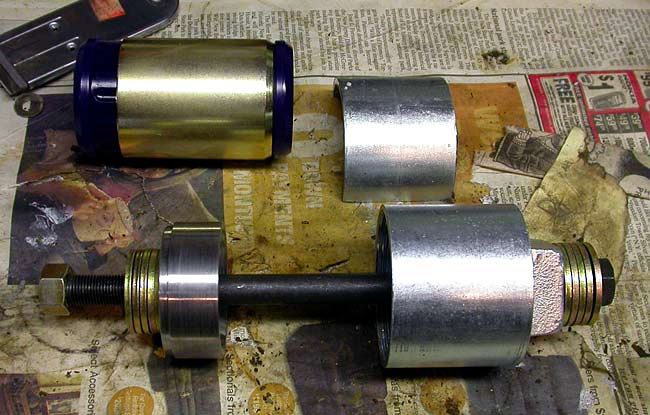 The trailing arm bushing tool in place. The bushing has already been pressed about 1/2" to the right.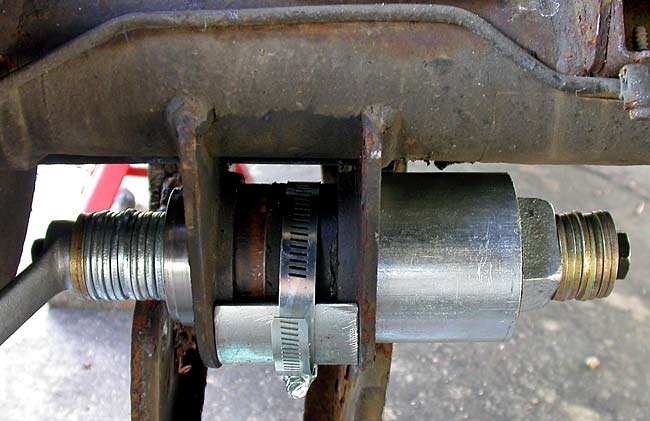 The bare mount for the bushing. If the spacer is not in place when the tool is cranked down on, the eyelets will bend inwards. Forget to put the spacer in place before pressing in the new bushing and suddenly you'll realize the next tool needed is a sledgehammer (I'm not tellin' how I discovered that one).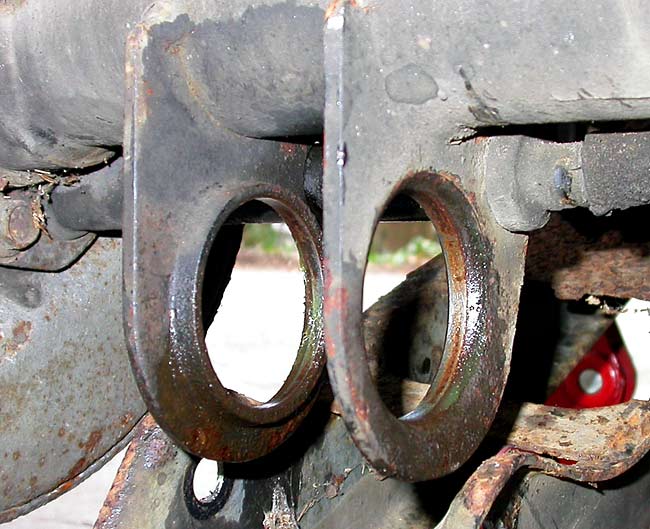 I built this tool using plans posted by Neil Wilcer. The only deviation was to use a plug machined by a good friend of mine in place of the 2" pipe end plug.
The original link to Neil's article was http://www-ese.fnal.gov/People/wilcer/volvo_trailing_arm_bushing_tool.htm which is no longer active and his email address is no longer active either. Neil, if you put the article up again on another page, let me know and I will update the link. The link I am using is a Wayback Machine snapshot from 2015.