These are a few snaps of the wayward bear in Wayne on May 8-11, 2007. Charlie Kientzler took the photos above in his next door neighbor's yard on Turhune Drive along the Pompton Lakes shoreline.

The bear had raided the chicken coop seen in the second photo. The first chicken got to safety and the second disappeared. Charlie called the homeowner at work and she came down to recover the one chicken and search for the second (which was later found hiding in another yard). The bear came back to Charlie's yard a bit later and we tried taking some more photos through the window. His digital picked that moment to die and Anita handed me a disposable film camera as he climbed up a tree by their front door. I got one frame off before he took off.

The next couple of days he was in the Cottonwood area of Pines Lake. One day he was under Paul Rossitto's deck. Gerry Jones in Laurel Woods had his back screen door clawed. The next time I went to use my gas grill I found the cover had a new tear and the plastic bag I used to keep the grease off the propane tank and been clawed up.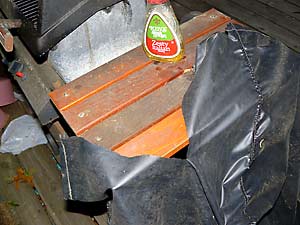 Shredded grill cover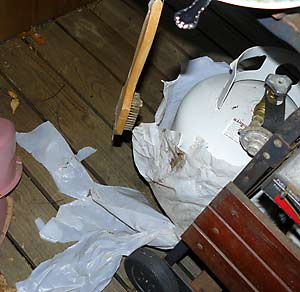 Clawed propane tank cover