West Point Military Museum - Autoloading Pistols / 03 Gyrojet Rocket Pistol 1965
Bill Maloney
3/13/2009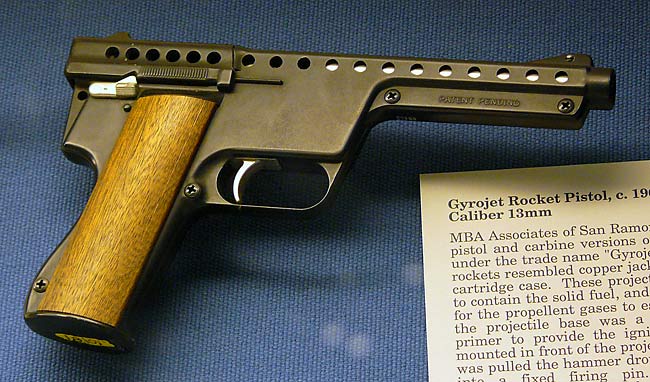 03 Gyrojet Rocket Pistol 1965
Gyrojet Rocket Pistol 1965
Caliber: Mark I 13mm Rocket
Action: Semi Automatic, Blow Forward
Muzzle Velocity: Low when exiting the barrel (so low a piece of cardboard at the barrel will stop the projectile), but accelerates to 1,260fps at 60 feet.
Range: 55 yards
Weight of Round - oz
Barrel Length: 5 inches
Overall Length: 10 inches
Weight: 1lb 6 oz
Year Built: 1965
Cost: $1,000+/- for a used example today. Ammo runs from $75-100 per round
The Gyrojet Rocket Pistol was relatively quiet. When fired the rounds were launched with a hiss rather than a bang. Unlike a conventional firearm the Gyrojet could be fired underwater.