US Navy Museum - Other Exhibits / 32 Yamato 26 Inch Armor Plate
Bill Maloney
2/22/2008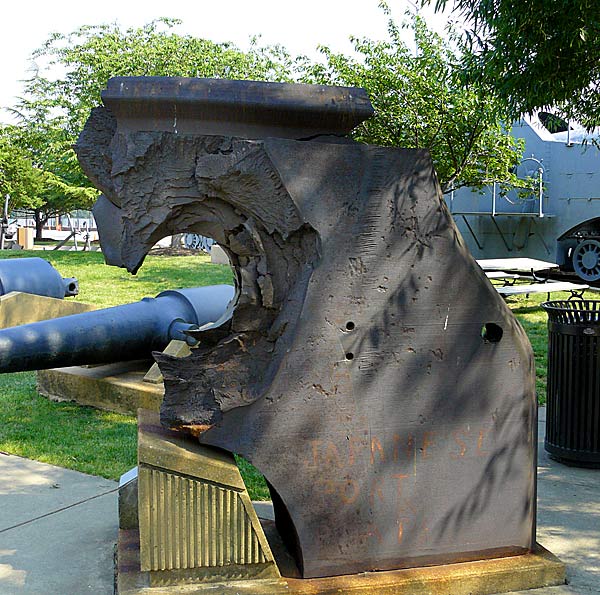 32 Yamato 26 Inch Armor Plate From an 18" Main Gun Turret
This 26" thick section of armor plate of for the Yamato class battleships was found at the Kure Naval Base in Japan after the end of WWII and brought back to the US for testing. The damage is the result of a 16" US armor piercing naval shell during ballistic testing at the Naval Proving Ground in Dahlgreen, VA. Bleeding through the paint are the words "JAPANESE PORT PLATE" I assume this is a portside plate but that doesn't narrow it down much. Maybe it meant that when found it was being used as armor protection at the Kure port itself.
I am fairly certain that this is a section of the frontal armor from a Yamato class battleship 18" main gun turret. Facing the turret from the front, it would the the upper right corner of the frontal armor plate. Image 34 shows it from the front, and rotated 90 degrees counter clockwise. This image shows it from the rear, rotated 90 degrees clockwise The machined circular area is the gun port for the 18" main gun. Here is a photo of the Yamato's rear 18" gun turret on the US Navy's Naval Historic Center website. You can get a good view of the upper left corner of this turret. This section would be for the opposite upper corner.
I could find nothing about the range at which the 16" Naval gun was fired at it, but I'd expect it was a lot closer than it would have been during a naval battle. The museum staff couldn't tell me any more about it. \
1/27/2016 - James McAllister wrote and sent me a link to this page that provides more information on the testing of this section of Japanese WWII Battleship turret. It states that this armor was slated for the third Yamato class battleship which was ultimately converted to an aircraft carrier configuration before being sunk by an American submarine. The page written by Nathan Okun gives comprehensive details of the test conditions and the resuts including an analysis of the armor used in this section of naval gun turret. Thank you James!