RCAF Royal Canadian Air Force Museum - Restorations / 01 Avro Anson
Bill Maloney
3/5/2010

01 Avro Anson
Avro Anson Specifications: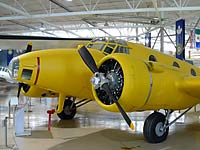 A restored Avro Anson can be seen at the Canadian Warplane Heritage Museum in Mount Hope, Ontario, Canada
Length: 42 feet, 3 inches
Wingspan: 56 feet, 6 inches
Height: 13 feet, 0 inches
Crew: 1+2
Weight: Empty - 5,300lbs Max Takeoff - 7,980lbs
Max Speed: 188mph
Cruise Speed: 158mph
Range: 790 miles
Service Ceiling: 19,000 feet
Fuel Capacity: gallons
Powerplant: Pratt & Whitney R-985 Wasp Junior air cooled gas engine 450hp
Armament:
None
First Flight : 1935
Cost: $
Here's a Youtube video of two Avro Ansons that locked together in a midair collision and landed together, one on top of the other. Another Youtube Video of an Avro Anson Engine being started after being freshly overhauled. One more Avro Anson Youtube Video shows the Anson doing flybys at an airshow.