Canada Aviation Museum Annex / 33 Heinkel HE-162 Cockpit
Bill Maloney
7/22/2006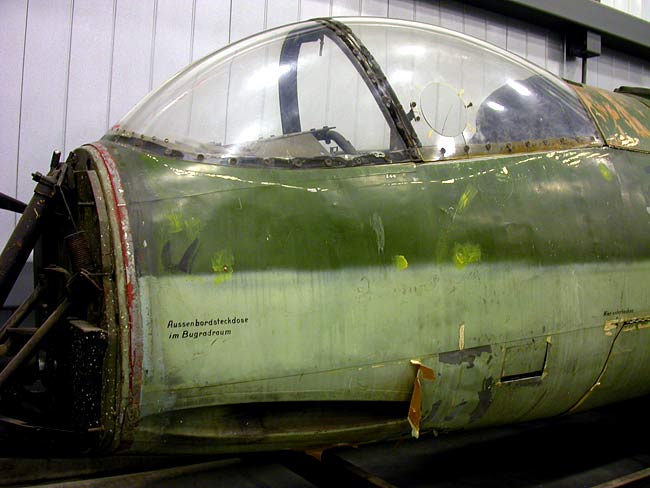 33 Heinkel HE-162 Cockpit
Heinkel HE-162 Salamander Specifications:
Two other Heinkel HE-162 Salamander jet fighters at this and another aviation museum in the northeast

Heinkel HE-162 Salamander at the Wings of Eagles Museum in Horseheads, NY. This particular example is an outstanding replica of the original German WWII jet fighter
Heinkel HE-162 Salamander 120076 at the Canada Aviation Museum in Ottawa, Canada in 2003. It has since been traded to Aero Vintage museum in England
Length: 29 feet, 8 inches
Wingspan: 23 feet 7 inches
Height: 8 feet, 6 inches
Crew: 1
Weight: Empty - 3,660lbs Takeoff - 6,100lbs
Max Speed: 562mph
Cruise Speed: N/A
Range: 230 miles / 30 minutes of powered flight
Service Ceiling: 29.400
Fuel Capacity: gallons internally
Powerplant: Junkers 003E-1 Orkan turbojet engine 1,760lbs thrust
Armament:
Two 20mm MG 151 Cannon
First Flight : December 6, 1944
This HE-162 Salamander is completely dissasembled and in poor condition and up against a wall in the back of the museum's Annex building. I hope it get's restored soon as I feel it is one of the rarest and most significant aircraft in the Canada Aviation Museum's collection. Navigate up to the index page of this gallery for more views of the HE-162's airframe. This is HE-162 airframe number 120086.