PT-235 Photos from Alfred Fleischer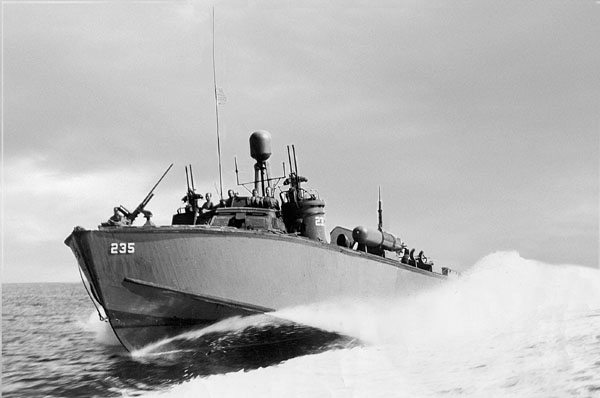 Al was kind enough to send this great shot of PT-235 underway.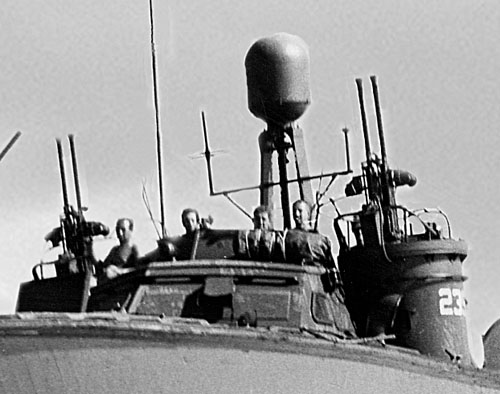 This is a closeup of the bridge of PT-235. Al believes that the person in the starboard turret is A. Pagano. This was most likely taken at Mios Woendi.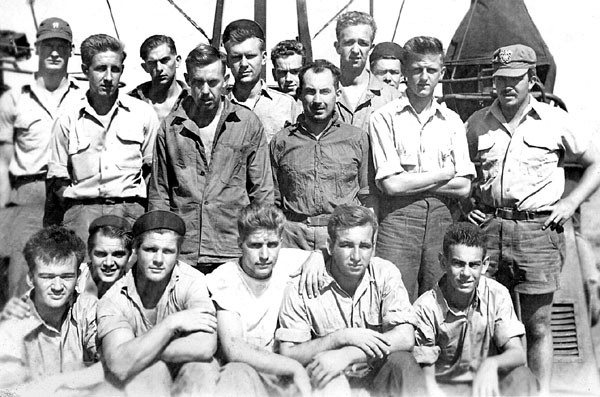 A group photo of the Officers and Crew of PT-235 taken in February 1945.
Back row, left to right:
Lt. (jg) J. W. Jeffrey (Texas), Ens. A. Fleischer (Pa), C. H. Lloyd RM 3/c (Mass.), W. L. May F 1/C (Ohio), E. P. Lucas MoMM 1/C (Indiana), F. L. Bloss F 1/C (Maryland), A. Pagano S 1/C New York). E. L. Buchanan TM 3/C (Virginia), G. M. Mertz GM 3/C (PA), J. B. Tatko F 1/C (PA), Ens. E. C. Nielsen (Mass)
Front Row, left to right:
F. M. Kahlhamer SC 2/C (Wisconsin), R. F. Marsh S 1/C (Wisconsin), C. E. Nelson S 1/C (Kansas), L. Ellis QM 2/C (Rhode Island), C. J. Bourgeous S 1/C (Louisiana), E. R. Schwartz S 1/C (New York)