US Navy Museum - Aircraft / 01 Ohka Suicide Bomb
Bill Maloney
2/22/2008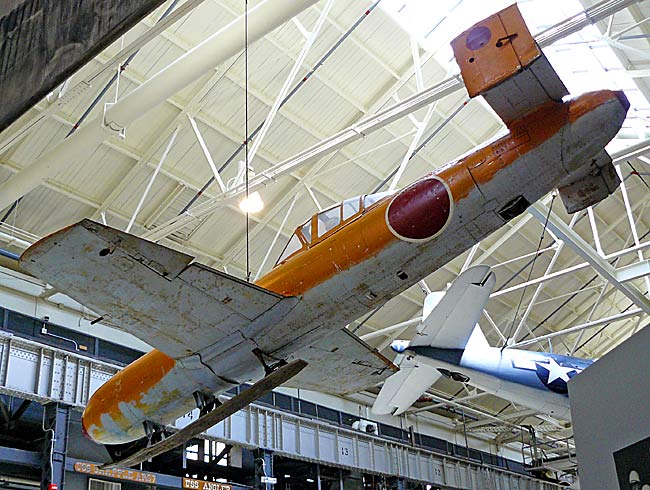 01 Ohka Suicide Bomb
Ohka Cherry Blossom Suicide Bomb Specifications:
Length: 19feet, 10 inches
Wingspan: 16 feet, 9 inches
Height: 3 feet 9 inches
Crew: 1
Weight: 4,718lbs
Max Speed: 576mph teminal dive speed
Glide Speed: 229mph
Range: 55 miles
Service Ceiling: Dependant on the mother ship
Fuel Capacity: N/A
Powerplant: Three Type 4 Mk. 3 solid propellant rocket motors with 1,464lbs total thrust
Armament:
2,646lb warhead
First Flight : 1944
These aircraft were used by the Japanese Imperial forces as Kamikaze suicide planes. The Ohka would be carried under the wing of a Betty bomber to within 35 miles of the ship or ships to be attacked. The Cherry Blossom would be released and the Betty bomber returned to base. The Ohka pilot would then light one or more of the 3 solid propellant rocket motors to cover the rest of the distance to the target. The pilot would then dive the Ohka into the target at a very high speed, setting off the 2,646lb high explosive warhead in the nose of the aircraft. It is essentially a Smart Bomb with an expendible pilot providing the guidance to the target.
This particular Ohka is a training glider version. It lacks the 3 rocket engines (although it may have a single rocket in the tail) and has a landing skid and small tail wheel. Interestingly it also has flaps which I doubt were needed on the actual combat version. The allied code word for the Ohka (or Cherry Blossom in Japanese) was Baka, which translates to "Fool".