Holland Submarine Number 1 Exterior Details
Bill Maloney
1/23/2007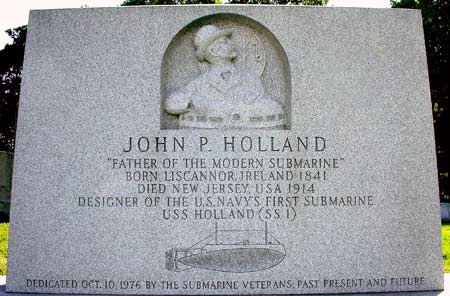 The propeller, diving planes, and conning tower porthole of John Holland's Submarine #1 were all fabricated by the staff of the Intrepid Sea Air Space Museum in New York City while the sub was displayed there for 3 years. John Holland stripped the originals off the hull before intentionally scuttling it in the Passaic River. According to the museum this was done to prevent anyone else being able to use the sub.
However if you search the internet, you will also find 2 sites devoted to Hoagie Sandwich Recipes who tell us otherwise. One says that the sub was stripped of usable items and scuttled as it was cheaper than the cost of hauling it out and storing it. The other states that the sub promptly sank on it's first trial run and there it remained. When the sub was recovered in 1927 and the owner of a sandwich shop serving tubular shaped sandwiches remarked "It looks like the sandwich I sell at my store". He then began calling his sandwiches "Submarine Sandwiches".
Considering that, John Holland must also be the father of the Modern Submarine Sandwich.
Hey, I read it on the internet! It MUST be true!
Holland Submarine Exhibit Main Page